WHERE YOU CAN FIND OUR MODELS
Samsonite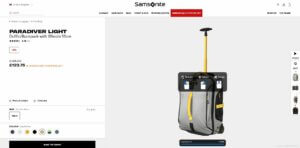 More and more companies are implementing our 3D models in their e-shops. Samsonite is one of those who go even further and offer their customers an interactive experience.
For example, the customer can choose the Paradiver Light color variant in the amazing Emersya configurator or open the Pro-Dlx 5 Laptop Backpack
Gregory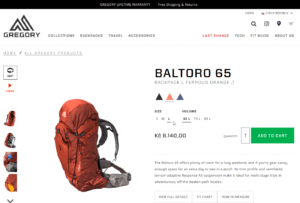 Gregory, one of the leading backpack manufacturers, has integrated a 3D model of the Baltoro 65 backpack we scanned into its E-shop. Thanks to the configurator from Emersya, the customer can choose a color variant on their website.
Targus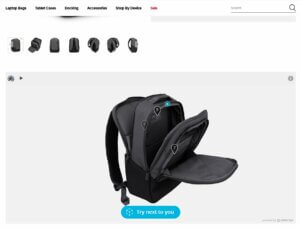 Targus used a number of our 3D models in its E-shop. We also scanned the backpacks in the open state. Thanks to this, customers can also see the inside of the backpack. Thanks to its configurator, our partner Emersya created a great interactive presentation of the product in 3D, including a description of the product directly in 3D. For Targus, we scanned not only backpacks, but also HDMI Docking Station.
DEUTER
For the Deuter company, we scanned not only backpacks, but also sleeping bags. It is a beautiful example of the flexibility of our technology, which can scan a wide range of objects. Deuter uses the Emersya platform to display 3D models. Our 3D models were used to present 11 products in 3D on the E-Shop, we randomly choose Astro Pro 800 SL, Flyt 14, Attack 20
Victorinox
We scanned over 50 different backpacks and suitcases for Victorinox. Part of the work was also the preparation of models for animation and rendering for marketing purposes.
SLINGSHOT
We scanned Wake boarding boots for SLINGSHOT. SLINGSHOT uses 3D displays for all its products to present its products on the E-shop. Our 3D models were again used to render Product Photos for the E-Shop.
KangaROOS
For KangaROOS, we have scanned the complete collection for summer 2020. In the application, the end customer will get detailed information about the products, which they can view in 3D. The application is available for free on the App Store a Google Play.
Tessamino
We scanned almost 400 shoes for Tessamino. 3D models were used in the application not only for 3D display, but also for the AR function, thanks to which the customer has the opportunity to virtually try out the shoe in the comfort of home. The application is available for free on the App Store